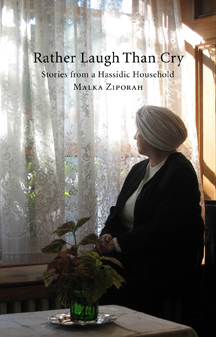 Rather Laugh Than Cry: Stories from a Hassidic HouseholdMalka Zipora
Rather Laugh than Cry is a glimpse into the daily life of a contemporary Hassidic woman living in a large urban setting. Malka Zipora is the pseudonym of a Montreal Hassidic woman who has raised a family of twelve children who now range in age between nine and thirty years old. Zipora has taken the unusual step of drawing back the curtain on her life as a Hassidic woman, and what she tells us about her everyday life gives us a very human view into a world that seems very much apart from the mainstream. But the stories clearly demonstrate that the lives of Hassidic mothers, wives, and members of a tightly-knit community are not so very different from the lives of other women. With good humour, Zipora shares with the reader her daily struggles and allows us to go beyond the external things that set the Hassidic community apart-unusual clothing, the rejection of radio, TV, mainstream newspapers, and other media, and long-held traditions of staying apart from the world around them. The stories in Rather Laugh Than Cry are reflections of a family life that is familiar across boundaries of time and place.

Fiction 2007
"In Zipora's book, every page attests to her role as a woman of valour in her home, but the publication of the book attests to her role as a woman of valour in her community. … The stories of the Hasidim she presents are the stuff of everyday, made interesting not through sensationalism but through humour and pathos. … She is giving a voice to a group that has often been spoken for (in the media and literature, by non-Jewish Québécois and secular Jews), but has rarely spoken: Hasidic women." - Karen E.H. Skinazi, in Women of Valour

"Rather Laugh Than Cry is a great introduction to Hassidic life, not only why but how they live apart from the world."—Montreal Review of Books

"Zipora has a strong narrative voice."- The Globe & Mail
Malka Zipora was born in Israel to Hungarian Holocaust-survivor parents. She grew up in South Africa before moving to Montreal where she raised her twelve children. Zipora has published over a hundred short stories in Orthodox Jewish magazines, as well as a children's book.
Trade paperback
160 pp 5.5" x 8.5"
ISBN13: 9781550652208

CDN $19.95 US & International
US $15.95