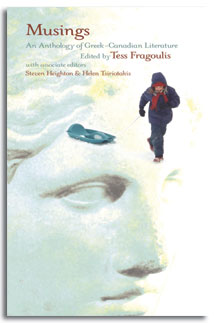 Musings: An Anthology of Greek-Canadian LiteratureEdited by Tess Fragoulis and Steven Heighton
Everything that any one of us can do to help or hinder his fellow man has been done, at least once, by a Greek. —Margaret Yourcenar, Memoirs of Hadrian Greece is the Western world's cultural birthplace. Think Homer's Iliad and Plato's philosophy. Think Nikos Kazantzakis and George Seferis. Think contemporary Greek-Canadian writers. Musings is a selection of some of the best Greek-Canadian literature, and includes stories and poems by Pan Bouyoucas, Margaret Christakos, Steven Heighton, Stavros Tsimicalis, and many others. Here is a vibrant community with many voices—experimental fiction, traditional storytelling, crisp poetry—anthologized for the first time. Some speak to the various faces of Greece, some speak to the immigrant experience, all speak to our common human experience. Celebrate the musings of the new Greek-Canadian literature! Tess Fragoulis was born in Greece and is the grand-daughter of the acclaimed Cretan writer, Constantine Fragoulis. She is the author of Stories to Hide from Your Mother and Ariadne's Dream.Steven Heighton's work has been translated into several languages and has been nominated for the Governor General's Award, the Trillium Award, and Britain's W.H. Smith Award. His mother's family came from Tripoli, in Peloponnesus. Helen Tsiriotakis is a first-generation Greek-Canadian of Cretan heritage. Her first collection of poetry, A House of White Rooms, was shortlisted for the Pat Lowther Memorial Award.
Fiction 2004
Tess Fragoulis was born in Heraklion, Crete, and grew up in Montreal where she currently lives and writes. She has written for television and newspapers, and has published widely in literary journals. Fragoulis' first book, a collection entitled Stories to Hide from Your Mother [Arsenal Pulp Press 1997] was nominated for the QSPELL First Book Award in 1998, and Ariadne's Dream was longlisted for the 2003 International IMPAC Dublin Literary Award.
Trade paperback
160 pp 8.5" x 5.5"
ISBN13: 9781550651867

CDN $18.00 US & International
US $13.95