An ABC of Belly WorkPeter Richardson
Peter Richardson's debut, A Tinkers' Picnic, introduced a new variety of tough talk to Canadian poetry with poems that, in their force-of-nature irrepressibility and verbal derring-do, typified nothing less than their own one-of-a-kind verve. With An ABC of Belly Work, Richardson has written another book of tall-tale, outsized poems full of aggressive banter and oddball colloquialisms. What sets Richardson apart, however isn't so much the way he frisks his poetry with free-wheeling and unpredictable touches, but the sincere fervency he brings to his concerns. Beneath all the enjoyable hamming-up, this inventive and irreverent second collection is rife with immensely moving conjectures on fatherhood, death and love.
Poetry 2003
"This collection of poems is a strong second for Richardson. His themes are work, separation, new love, new life, family, remembrances, history, and fancy... Richardson manages-and herein lies his strenth-effortlessly to seam concrete description of everyday experiences with the vivid interior life that inevitably accompanies them...Richardson's trademark perceptivity and hi-fi vocabulary are at their peak here." -Books in Canada

"Perhaps [Peter Richardson's] job [as an airport cargo handler] shifting objects around has encouraged his use of vivid verbs: they jostle through the collection... Most of Richardson's book carries valuable cargo." -Montreal Review of Books "His new book is even better [than ABC of Bellywork]. Richardson continues to balance personal poems with inventions and observations. His storytelling skills have deepened: he channels the voices of losers who are not beautiful but always interesting." -Montreal Review of Books

"Richardson has an excellent sense of pacing and shows himself to be a master of the long sentence when he needs to be. Never very far from either humour or pleasure, these poems allow the reader to come away with a refreshed sense of the world." -Journal of Canadian Studies
Peter Richardson's poems have appeared in many Canadian and American publications. His first book,
A Tinkers' Picnic
[Signal Editions/Véhicule], was nominated for the Gerald Lampert Award in 1999. For over twenty-four years Peter Richardson has been employed as an airport ramp worker, first at Mirabel, and then Dorval. He lives in Montreal.
Other books by Peter Richardson:
A Tinker's Picnic
Sympathy for the Couriers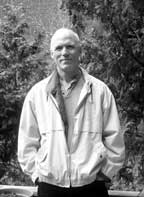 Trade paperback
86 pp 8.5" x 5.5"
ISBN13: 9781550651812

CDN $14.00 US & International
US $8.95