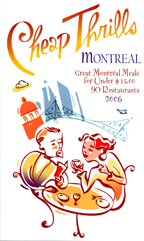 Cheap Thrills Montreal: Great Montreal Meals for Under $15 (fourth edition)Nancy Marrelli and Simon Dardick
The newest edition to the definitive food lover's guide to affordable quality dining in Montreal. The last edition spent over 61 weeks on the Montreal Gazette's bestseller list--and with good reason! Cheap Thrills reveals, to visitors and residents alike, Montreal restaurants that offer good food and great value.

Discover 90 restaurants, including 60 new selections and 30 revised and updated Cheap Thrills Classics. In each, the majority of meals on the evening menu are under $15 before taxes, tip, and wine.

Experience the cuisines of the world without leaving Montreal: Korean, Peruvian, Italian, Syrian, Haitian, Jamaican, Brazilian, Chinese, Indian, Israeli, Senegalese, Polish, Thai, Portuguese, Greek, and more. Plus bistros, BBQ, deli, pubs, vegetarian, kosher, all-day breakfasts and late-night restaurants.
Travel 2002