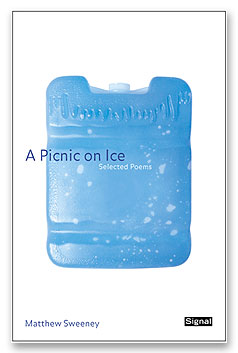 A Picnic on Ice: Selected PoemsMatthew Sweeney
Representing the best of ten books and twenty years' work, Matthew Sweeney's Selected Poems is a magical mystery tour into the strange, unsettling world of this acclaimed Irish poet. Reader's familiar with his poetry will be accustomed to being led astray by his cordial, confiding wit, ambushed by his sinister twists, and taken in by his intimate, untrustworthy narrators. Those who are coming to his work for the first time may feel a measure of alarm and disquiet at the way the poems shift—almost without your noticing—from a fireplace chat to a tale of terror, from the commonplace to the hallucinatory, from the surprisingly real to the really surprising. In this, Sweeney's North American debut, we are in the hands of one of the most imaginatively gifted poets now writing.
Poetry 2002
Sweeney's poems are reflective, funny, supremely inventive and impeccably written. This is contemporary poetry at its very best. - Charles Simic

"Sweeney's poems show a remarkable steadiness of voice and coherence of purpose as their narratives of the seemingly everyday unfold sometimes Gothic chills and surprises, straight story lines looping into memorably grotesque twists." -University of Toronto Quarterly

"These poems are gem-like, condensed stories." -Canadian Literature

"The poems are rich with situation and character, embryos of narrative, pulsing with implicit life." -Ruth Fainlight, Financial Times

"The work is one large metaphor: a parable for the human condition…[Sweeney] is one of our finest poets of the unconscious; of darkness brought to light and madly, glintingly, against all expectation, shared." -Ruth Padel, The Independent

"This is poetry bent on startling us out of com-placency. Sweeney is brilliantly determined to wake us up." -Kathleen McCracken, Poetry Ireland Review
Matthew Sweeney was born in Donegal and has lived in London for many years. Apart from his poetry, he has written children's fiction and edited three anthologies, Beyond Bedlam [with Ken Smith], Emergency Kit [with Jo Shapcott] and the New Faber Book of Children's Verse.

Trade paperback
140 pp 8.5" x 5.5"
ISBN13: 9781550651638

CDN $16.00 US & International
US $16.00