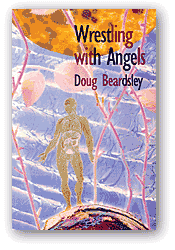 Wrestling with Angels: New and Selected Poems 1960-1995Doug Beardsley
Wrestling with Angels is a selection of Doug Beardsley's poems from 1960 to 1995.
Signal
Poetry 1998
Doug Beardsley has published over a dozen books in a career that has spanned more than three decades. Published to critical acclaim, they include The Only Country in the World Called Canada, Kissing the Body of My Lord: The Marie Poems, Dancing Star, and Inside Passage. His work has appeared in the Canadian Forum, Malahat Review, Canadian Literature, American Poetry Review, Antigonish Review, and Matrix. He is also represented in several anthologies, including The Penguin Anthology of Canadian Poetry.
Trade paperback
176 pp 9" x 6"
ISBN13: 9781550650631

CDN $12.95 US & International
US $12.95