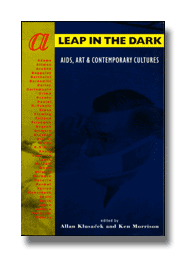 A Leap in the Dark: AIDS, Art & Contemporary CulturesEdited by Allan Klusacek and Ken Morrison
AIDS is a focal point for many of the social ills that plague modern society, as well as being what many countries have declared their major public health problem. It challenges and defies our institutions, our communities, and for many of us, our lives and bodies. In this international anthology, essays by historians and anthropologists present a historical context for AIDS, while contributions from artists, writers, art critics, and AIDS activists describe the multifaceted involvement of the artistic community in the fight against the disease. A Leap in the Dark examines censorship: culturally specific HIV education and prevention; the politics of desire; AIDS, aesthetics and activism; erotica and safe[r] sex; the impact of AIDS on gay and lesbian friendship; and the representation of AIDS in the media. This international anthology includes contributions from historians, anthropologists, filmmakers, visual artists, art critics, feminists, and AIDS activists.
1998
"The range is impressive." -Fuse

"An encouragingly broad range of responses to the AIDS crisis." -Afterimage
Ken Morrison is a writer, researcher and educator living in Montréal. Until recently, he was the coordinator for National Prevention and Education Programming for the Canadian AIDS Society.
Trade paperback
255 pp 9" x 6"
ISBN13: 9781550650204

CDN $19.95 US & International
US $19.95