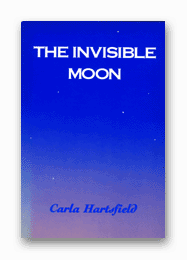 The Invisible MoonCarla Hartsfield
For a first book, The Invisible Moon contains an extraordinary, matured vision, supported by craft that is astonishing in its range of virtuosity—yet the poetry seems effortless. It is work formed by a wry and direct perception of her world—equally "at home" in the Texas of her youth and the Canada of her adulthood. The curtain is now up on a gifted poet.
Signal
Poetry 1989
Carla Hartsfield was born in Waxahachie, Texas and now lives in Toronto. She is a classically trained pianist, a singer-songwriter, a self-taught autoharp player, a music teacher, and a visual artist. She has published two previous collections of poetry [
The Invisible Moon
, 1988 and
Fire Never Sleeps
, 1995] with Véhicule Press.
Other books by Carla Hartsfield:
Fire Never Sleeps

Trade paperback
86 pp 9" x 6"
ISBN13: 9780919890916

CDN $9.95 US & International
US $9.95