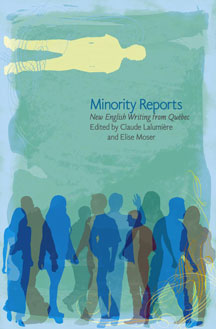 Minority Reports: New English Writing from Quebec
Claude Lalumière & Elise Moser
Fiction/ Anthology
The best prose writing in Quebec.
Minority Reports
gathers together the best prose writing in Quebec–all short pieces–from the winners and finalists of the last three years of the Quebec Writing Competition.
Montreal's CBC Radio One and the Quebec Writers' Federation created the competition in 1999. It has resulted in three previous anthologies–
Telling Stories
,
Short Stuff
, and
In Other Words
. The winning stories are broadcast on
CBC Radio
and published in
Maisonneuve
magazine.
Claude Lalumière
is the author of
Objects of Worship
and
The Door to Lost Pages
. He's the Fantastic Fiction columnist for the
Montreal Gazette
and the co-creator of Lost Myths. He is the editor of eight anthologies. He lives in Montreal, Quebec.
Elise Moser
's is the award-winning author of
Because I Have Loved and Hidden It
[Cormorant, 2009]. She was the literary editor of
The Rover
, and is president of the
Quebec Writers' Federation
. She lives in Montreal, Quebec.
ISBN:
978-1-50065-324-3